Click Here to Add a Title
On March 31, 2018, our organization suffered the loss of our Team Owner & Crew Chief, John "Pappy" Breitkreitz. We can't begin to express the gratitude we have for the outpouring of love and support that we have received.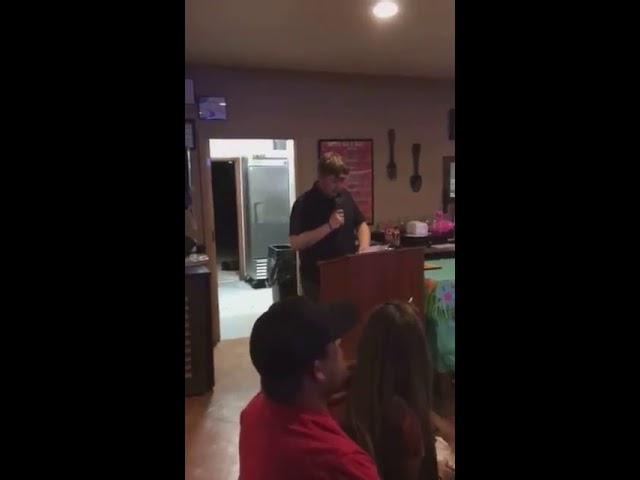 2018 Happy Pappy Award Given at

Tucson Dragway
The Breitkreitz family has decided to start the "Happy Pappy Award" in honor of our "Pappy", who we lost on March 31st; Tripp presented the 2018 Happy Pappy Award at Tucson Dragway at the 2018 Season Banquet on Saturday, January 12, 2019.
Pappy was a staunch supporter of the Jr. Dragster program at Tucson Dragway, as well as at Wild Horse Pass and throughout Division 7. Anyone who knew Pappy knows that he loved being with his track family. If you couldn't find him between rounds, you would have to look no further than the ice cream truck. He could often be found there eating pistachio ice cream, and buying ice cream for someone who had a just achieved a personal best, or a perfect light. He did this not only to fill up his "frequent buyer card", but because he loved to see us kids smile and to encourage them to always do their best.
Pappy was a friend and a mentor, if needed, to all he met; he was very non-judgmental, humble, loving, kind, compassionate, disciplined, and a team supporter. He knew how to accept defeat, but he also loved seeing that win light come. Pappy was a good sportsman not only in Tripp's program, but in racing his prized 1968 Dodge Dart…he always made sure to shake hands with not only whoever the competitor was, but their crew also...both in the lanes and at the top end. He always said, "We'll still be friends at the top end…because that's drag racing". Pappy also had the smoothest dance moves in town, which he often displayed in the lanes to keep things fun, because as he would say, "If we aren't having fun, why are we doing this?" At the last Racers for Christ Chapel Service that he attended at Tucson Dragway, when closing the service Amy asked if anyone had anything that they wanted to talk about. He stood up from the golf cart, and said…"If you lose your race, and you are sad…just picture me dancing at the top end…and then you can laugh", as he started dancing…and then we all started dancing.
The recipients of the Happy Pappy Award this year are a team who embody all of the things that I described earlier. They are extremely humble, driven, disciplined, competitive, confident, focused, committed, kind, and willing to help in a time of need. If, and it's a big IF, they go out first round, you can find them sitting in their golf cart at the starting line cheering on their team mates.
The Breitkreitz family is proud to present the 2018 Happy Pappy Award at Tucson Dragway to Dylan & Randy Smith.
John "Pappy" Breitkreitz...a friend and Grandfather to all

Don't grieve for me for now I'm free.

I'm following the path God laid for me.

I took his hand when I heard him call.

I turned my back and left it all.

I could not stay another day,

To laugh, to love, to work, or play.

Tasks left undone must stay that way,

I've found that peace at the close of day.

If my parting has left a void,

Then fill it with remembered joy.

A friendship shared, a laugh, a kiss,

Ah yes, these things I too will miss.

Be not burdened with times of sorrow:

I wish you the sunshine of tomorrow.

My life's been full I've savored much,

Good times, good friends, a loved one's touch.

Perhaps my time seemed all to brief,

Don't lengthen it now with undue grief.

Lift up your heart and share with me,

God wanted me now, he set me free.
/